Look through any magazine, newspaper or other media outlet and you will see nothing but perfectly straight, gleaming white 'Hollywood' smiles.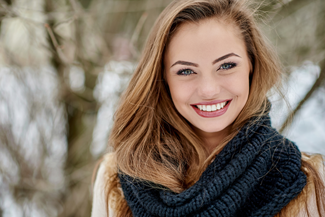 Even if you have never thought about having cosmetic work done on your teeth, a quick glance through a magazine can often change your mind. After all, you want to feel confident about your smile and with cosmetic dentistry costs becoming more affordable, why wouldn't you want to rejuvenate your smile?
Luckily, with demand comes expertise; many dental surgeries across the UK now contain staff that are qualified in both general and cosmetic dentistry. This has resulted in making access to cosmetic work easier. If, however, you want a bit more than tooth whitening and want to really boost your confidence, you may be suitable for a smile makeover in Ormskirk.
What is a smile or dental makeover?
A smile makeover in Ormskirk involves one or more cosmetic dental procedures to improve the overall appearance of your smile.
Treatments used during these smile makeovers in Ormskirk will vary from person to person based on how you want your smile to look when your treatment is completed. If you want the full Hollywood smile, great! Do you just want to fill some gaps in between your teeth to create a more symmetrical smile? We can do that too!! The level of cosmetic work is entirely up to you.
Can a dental makeover really improve my confidence?
In a word, yes.
If you have crooked teeth, your dentist may advise that you to undertake treatment with Invisalign braces. Alternatively, you may want porcelain veneers for a faster solution, that can give your teeth a more symmetrical appearance. Porcelain veneers can also be used to repair chipped or broken teeth, depending on the extent of the damage.
Dental implants are a common feature of smile makeovers and offer the perfect solution to missing teeth. If you have multiple missing teeth, you may be more suited to a dental implant that involves a bridge or dentures being secured to your jaw, as opposed to individual teeth.
Are your teeth very stained? Many people in today's society are concerned about the colour of their teeth. A dental makeover can also involve whitening techniques both in and out of the dental chair, to leave you with teeth that are up to 8 shades lighter!
Is a dental makeover expensive?
Your dental makeover cost will probably differ from someone else's, as it is your dental makeover. The cosmetic work used is personalised to you and therefore the cost is as well.
At Parbold Dental, we don't want you to worry about the costs of cosmetic treatments and we offer a range of dental payment plans to help you spread the cost over several months. That way, you can enjoy your gorgeous smile and your newfound confidence without breaking the bank!
Want to find out more about dental makeovers?
Contact us today at Parbold Dental and we will arrange your initial consultation.