If you're considering porcelain veneers Ormskirk, it might be overwhelming to know where to start. You probably have a variety of questions and don't know where to begin, which is where we come in. Here at Parbold Dental, we want you to feel comfortable from the second you enter our practice. We pride ourselves on our patient care and getting to know all your individual needs and circumstances, so prepare to be treated like a member of the family.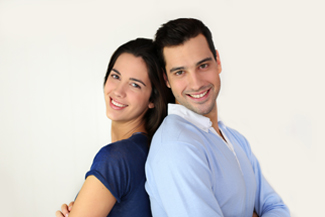 In this short article, we'll introduce you to porcelain veneers Ormskirk and answer any of the questions you might have, including the treatment process, the benefits, and who might be suitable.
Suitability
If you're wondering if porcelain veneers Ormskirk are the right choice for you, don't worry about it. We'll always examine your teeth thoroughly and take a detailed dental history before we recommend any treatment. There are many reasons that the veneers might be recommended, though. For example, you might have discoloured teeth due to root canal treatment, stains from tetracycline, excessive fluoride, large resins or other fillings. If you have teeth that are worn down, chipped or broken, misaligned, uneven, irregularly shaped or have gaps in them, it is likely that you will be suitable for veneers.
Procedure
Before any steps are taken to apply the veneers, we will talk to you about the result you desire and take necessary X-rays or images of your teeth. We will also make impressions of your teeth and mouth. Next, we will begin to prepare the tooth by reshaping the surface. If you would like to be numbed during this treatment, please let us know! Once we have made an impression of your tooth, we will create the veneer in a dental laboratory. It can take a few weeks for the veneers to be made, but once they are, we will call you in for them to be applied. Before we permanently cement the veneer to your tooth, we will be sure to make sure that it is the correct size, shape and colour and adjust it as neccesaary. We will apply the bonding materials to the veneer before placing it on your tooth, which we will have previously etched to allow for a connection with the bonding. In some cases, we may ask you to come in for check-up appointments to make sure that everything is going smoothly.
Lifespan and cleaning
As with all treatments, the better you take care of them, the longer they will last. Veneers can generally last between 7 to 15 years before they need to be replaced. However, if you continue to follow a strict oral hygiene routine and act as if they are real teeth, it is likely that they will last the maximum amount of time. There are no special steps that need to be taken to clean your veneers.
Benefits
The advantages to veneers include having a natural appearance. The porcelain that the veneers are made out of are also stain resistant and easily tolerated by your gums. You have complete control over the colour and size, although we will add recommendations that have your best interests at heart.