Let clear braces Ormskirk give you something to smile about
The clear and obvious choice
At Parbold Dental, we want all our patients to have healthy and happy smiles that they use freely and frequently.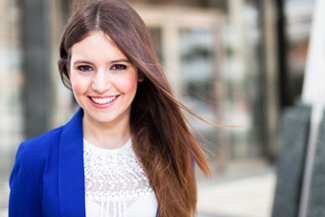 However, we also recognise that some who have crooked teeth may find this more difficult or embarrassing, which is part of the reason we strongly encourage people to look into clear braces Ormskirk. This will allow them to discover whether the clear orthodontics we offer could be a suitable solution[1]  to their needs.
What are cosmetic orthodontics?
Most people are aware of traditional metal braces, either from first-hand experiences in their earlier years or through friends or family. However, a fewer number of people are aware of what clear braces Ormskirk are or how the treatment we offer differs from more conventional options.
At Parbold Dental, we are proud providers of the Invisalign clear braces Ormskirk, which is one of the world's most popular cosmetic alternatives to fixed braces.
What is Invisalign?
The Invisalign system is unique in its approach to misaligned teeth, as the process does not call for any brackets or frames to be bonded within the patient's mouth. Instead, the Invisalign process is carried out entirely through a set of removable orthodontic aligners, which can be custom-made from a mould or digital impression of the patient's teeth.
Inside these custom-made Invisalign aligners are pressure points and structural grooves, which are placed strategically within the aligner's structure so that pressure is applied to certain teeth that have been identified as being out of place, crooked or overlapping.
One of the main reasons for the Invisalign system gaining worldwide acclaim and popularity is the cosmetic advantages that the treatment offers. As every custom-moulded Invisalign aligner is created from a thin and transparent plastic, when the patient places their aligner over their teeth, it becomes almost invisible.
This means that anyone who wants clear braces to align crooked teeth without bringing unwanted attention may find Invisalign to be a great option.
What are the advantages of choosing Invisalign?
Besides the obvious superficial advantages of choosing Invisalign dental aligners to correct misaligned teeth, there are also several other appealing qualities of the treatment. As Invisalign aligners are never attached to a patient's teeth during treatment, the patient can choose when to take out their aligner. For example, the patient can opt to remove their aligner before eating or attending an important occasion like an interview. Another advantage of Invisalign is that the treatment greatly reduces the patient's chances of developing gum issues or infections such as periodontal disease.
This happens because the aligner gradually and gently moves the patient's teeth into the proper alignment, which means that there will be fewer spaces or hidden pockets where plaque or bacteria could develop. With regard to comfort, the Invisalign system is also considered by many to be one of the most comfortable ways to address crooked teeth as the plastic aligner is durable yet comfortable and does not need to be attached to the patient's mouth during treatment.
---
Avoid claiming perfection (see edit).
---